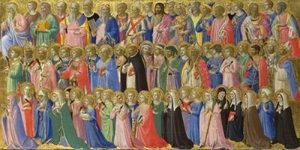 ARE YOU READY TO CAST YOUR VOTE IN THE MOST SAINTLY TOURNAMENT OF THEM ALL?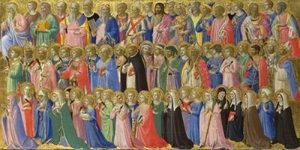 The Third Round of our Saintly Championship is over, and we're down to the final two! After the first quarter of the competition, both Mary Magdalene and Hildegard Von Bingen held leads. At the half, Francis trailed by only two, but Michael was hoping for an extended half-time show. At the end of the third quarter Francis had taken the lead by the slimmest of margins, while Hildegard continued to punish Michael. Hildegard showed no mercy in the fourth quarter while Mary M turned the tables and surged to the win. Our final is set: Mary Magdalene takes on the Lady from Bingen, Hildegard!

Hildegard Von Bingen

was born circa 1098 to a noble family, the youngest of ten. She began having visions at a young age, she wrote, and her parents offered her as an oblate to a Benedictine monastery, and she was "enclosed" (separated from the outside world) with another girl, Jutta, at a young age. She learned to read and write while there, to play music and sing, and helped tending the garden and the sick. Jutta was also said to have visions, and when she died, Hildegard was elected magistra of their community.
She was later asked to be prioress, but instead, Hildegard wanted to begin her own community. When the Abbot said no to her request, which was a move toward poverty and did not tax the monastery, Hildegard went over his head and received permission from Archbishop Henry I of Mainz. Abbot Kuno did not relent, however, until Hildegard was stricken with an illness that rendered her paralyzed, which she attributed to God's unhappiness at the Abbot not following orders to allow her nuns to move. He finally granted their request, and Hildegard and about 20 nuns moved to the St. Rupersburg monastery in 1150. She founded a second monastery at Eibingen in 1165.
Prior to Hildegard's death in 1179, a problem arose at the congregation in Mainz – a man buried in Rupertsburg had been excommunicated prior to his death, so clergy wanted to remove his body from the sacred ground. Hildegard did not agree, saying the man was reconciled to the church at the time of his death. The clergy in Mainz punished her congregation for not removing the man's remains, disallowing them from having communion or singing the daily rites. She protested, but they only relented when she found witnesses who could attest that the man had in fact been reconciled to the church before his death.
During her lifetime, she wrote three volumes of visionary theology, many musical compositions for use in liturgy and otherwise, a musical morality play, invented a language known as Lingua Ignota, a gospel commentary, two volumes on natural medicine and cures, and two works of hagiography. She also had one of the largest bodies of letters to survive from the Middle Ages. Her correspondence included popes, abbots, emperors, and included many sermons she preached. She referred to her visionary voice as "the voice of the Living Light."
Even though she had conversed and was visited by several popes, and was known for her visions in her lifetime, she was not canonized until 2012. Her feast day is September 17th.
Mary Magdalene

(Mary of Magdala, the Magdalena) was known for being one of the few women to travel with Jesus, and was probably helping to support their travels monetarily. She was a witness to his crucifixion and resurrection, and is mentioned more than any other woman in the Gospels (besides Jesus' family).
Very little is known of her life, as she did not leave behind any writings of her own. According to Luke, she had seven demons exorcised from her, which could be a symbolic number or mean there were seven attempts at exorcism – either one also meaning it was quite severe. Since she was mentioned as a financial support, she was probably quite wealthy.
During Jesus' crucifixion, she was one of the women to remain at the site after the disciples had left. When Joseph of Arimathea claimed the body, Mary Magdalene was listed as witnessing the burial as well. While the details of the event differ, the gospels all agree that Mary Magdalene was the first person to see the risen Jesus, and was the one who informed the disciples of this.
Pope Gregory I identified Mary Magdalene as a former prostitute in one of his homilies, after which her reputation was incorrectly assumed; historians and scholars have denied this idea though, and she is considered a saint by many denominations, with a feast day of July 22, and referred to as "apostle to the Apostles."
Much speculation has taken place about her life after the resurrection, with historians and writers posing theories about further miracles, traveling with other disciples, and moving to France with Mary, Jesus' mother. Many, many works of art have featured Mary Magdalene, both because of her story and things speculated about her.
All the Company of Heaven Rules
Nominationtide – October 22nd
           On this day you will be able to nominate one saint that you want to be part of "All the Company of Heaven Championship"
Who can I nominate?
           To ensure your SUCCESSFUL nomination, please note the Nominationtide Rules & Regulations, which reside in a scary corner of the undercroft of Christ Church.
The nominee must, in fact, be dead.

The nominee must be on the official calendar of saintly commemorations of some church. The most readily available list is on pages 19-30 of our Book of Common Prayer.

We will accept only one nominee per person.

The only way to nominate a saint is by writing their name on a piece of paper and placing it in the Heavenly Bucket on the table near the Orrick Door. This bucket will be there on October 22nd with the nomination ballots.
How will I know about the sixteen saints who make the bracket?
           There will be a website detailing each of the sixteen saints with pictures and biographies.
What is the schedule of voting?
           On October 29th you will vote in the first round which will pit the sixteen chosen saints in one on one competition (see the bracket).

           On November 5th the saintly field will be down to 8 so you will vote on four matchups.

           On November 12th our heavenly host will be down to the top 4 so you will vote on 2 matchups.

           Finally, on November 19th there will only be one matchup to weigh in on as only two saints are left standing.

           The Champion Saint will be announced on Sunday November 26th!
[A big thanks to The Rev Tim Schenk and The Rev Canon Scott Gunn for their inspiration through their website "Lent Madness"]