Sunday service at 10:00AM can be watched at Facebook Live. https://www.facebook.com/rdgchristchurch
You can still watch the stream without an account.  Learn how to do that here: https://diobeth.org/how-to-view-facebook-livestreams-without-an-account/
Additionally, the Diocese of Bethlehem has an abundance of information on how to participate remotely.  Click here: https://diobeth.org/
                    The Holy Eucharist at Christ Church Episcopal
April 5, 2020; Palm Sunday
Organ Preludes: All Glory, Laud and Honor                  arr. G. Winston Cassler
Ride On, in Majesty                                         arr. James Engel
The Service begins on page 270 of the Book of Common Prayer (BCP)
Opening Acclamation
Prayer: p. 270 BCP
Gospel Reading: Matthew 21: 1-11
Blessing of the Palms: p. 271 BCP
Hymn 154: (1 verse played by the organ)                          Valet will ich dir geben
The Psalm: Psalm 118: 1-2, 19-20                                        Confitemini Domino
Collect: p. 272 BCP
Psalm 118: 21-29
Collect: p.272 BCP       
The Old Testament Reading: Isaiah 50: 4-9a
The Psalm: Psalm 31: 9-16                                                 In te, Domine, speravi
The Epistle: A Reading from The Letter to the Philippians        Philippians 2: 5-11                            
The Gospel Anthem: O Sacred Head                                        James A. Rogner  
Duet: Milah Allison and Victoria Wilson
The Gospel: Matthew 27: 11-54
The Homily                                                        
The Prayers of the People
The Peace
Announcements
Holy, Holy, Holy: S 124                                                                           Sanctus
Amen: S 142
Hymn S 148                                                                            The Lord's Prayer
Fraction Anthem: S170                                                 Whoever eats this bread
Post Communion prayer: p. 365 BCP
Blessing and Dismissal
Organ Postlude: Voluntary on Lift High the Cross                  Donald Busarow
Sundays:
8:00 AM – Holy Eucharist – Spoken
8:45 AM – Rise & Shine Service in the Chapel for families with young children
10:15 AM – Holy Eucharist with Music
7:00 PM – Misa Espanol
Tuesdays:
9:00 AM – Centering Prayer
Wednesdays:
12:05 PM – Holy Eucharist and Healing in the Chapel
Thursdays:
8:30 AM – Centering Prayer
9:30 AM – Morning Prayer
Saturdays:
5:30 PM – Music Mass (see events list for times & dates)
Sunday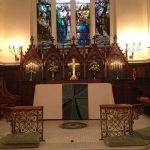 8:00 am – If you are an early riser, if you like to skip the fuss, if starting your week on the wing and with a prayer appeals, the 8:00 am service may be for you! Built around the mystical sacrament of the Holy Eucharist, this service is a "Quiet Said Worship" with no music. The Healing Ministry offers prayer for individuals during this service every third Sunday of the month
Contact: Fr. John Francis (johnrfrancis@rdgchristchurch.org)
8:45 am – "Rise and Shine" is a relaxed service geared towards families with young children. The service takes place in our warm and inviting Chapel which has soft chairs, carpet and plenty of cuddly stuffed animals.  Age appropriate church and love themed songs are sung accompanied by rhythm instruments in a freestyle way.  Echo-prayers, bells, sea shells and pictures help us through the liturgy, and children fully participate in the service. There is a brief family friendly homily and the Holy Eucharist is celebrated using fresh pita bread that is broken and shared.
Contact Heather Boggs (heather@rdgchristchurch.org)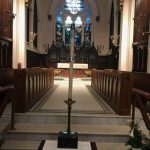 10:15 am – This traditional celebration of the Holy Eucharist contains music primarily of recognized masters of church composition. This ranges from plainchants that go back to the origins of the Christian church, traditional Anglican chants, anthems, motets and carols from the Renaissance and High Baroque periods to jubilant and rhythmic new compositions by contemporary masters. Regardless of its style and era, all music is chosen for its quality and spiritual depth. The Healing Ministry offers prayer for individuals during this service every third Sunday of the month.
Contact Fr. John Francis (johnrfrancis@rdgchristchurch.org)
7:00 pm – Esta misa está diseñada para satisfacer las necesidades espirituales de hispanohablantes en Reading. Se basa en el idioma español y la cultura latina, principalmente Dominicana, Mexicana y Boricua. La liturgia tiene un equilibrio de estilos musicales contemporáneos y tradicionales. Los servicios se llevan a cabo en la Capilla, con fieles de todas las edades. Los niños son bienvenidos.
Los líderes de adoración Enrique Molina y Melvin Morales son dos músicos hábiles. Enrique Molina estudió composición musical en Moravian College. Los dos arreglan música para la liturgia. Reciben a todos los recién llegados que estén musicalmente inclinados a compartir sus talentos con la congregación.
Contacta a Enrique Molina:  lagranjamolina@gmail.com
This Mass is designed to meet the spiritual needs of Spanish-speakers in Reading. It is based in the Spanish language and Latin culture, primarily Dominican, Mexican, and Puerto Rican. The liturgy has a balance of contemporary and traditional music styles. Services are held in the Chapel, with worshippers of all ages. Children are welcome.

Worship leaders Enrique Molina and Melvin Morales are both skilled musicians. Enrique Molina studied music composition at Moravian College. The two arrange music for the liturgy. They welcome any newcomers who are musically inclined to share their gifts with the congregation.
Contact Enrique Molina:  lagranjamolina@gmail.com
Wednesday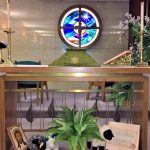 12:05 pm – In the middle of your hectic busy work week, take a break for quiet, reflection and healing in our chapel Eucharist Mass.  A short service and a good way to regenerate during your midweek lunch hour.
Contact: Fr. John Francis (johnrfrancis@rdgchristchurch.org)
Saturday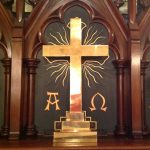 5:30 pm – Pop Music Mass – The lines between sacred and secular music become blurred in this monthly Mass. Grammy Award winning David Cullen presents music from popular artists woven into the Mass. The atmosphere is relaxed, fun, reflective. Check the events tabs for dates and times.
Contact Fr. John Francis (johnrfrancis@rdgchristchurch.org)