Rummage is back!   Rummage will be held on November 3,6, and 9.  Hours will be from 10:00AM to 1 PM.  Christmas items will be out for you this month!
Features clothing, household items, curtains, linens, books, records, toys, jewelry, glassware, dish sets, craft supplies, fabric, and MUCH MORE! You never know what you're going to find! Most items under $5!!! Christmas items are available November and December.
Please use the Madison Avenue entrance.  If the sale is cancelled for any reason, it will be announced on WEEU/830AM.
All proceeds go to various missions.
Volunteers are needed to sort and price items on Wednesday mornings from 9-12.  We are always happy to receive donations of clothing, linens, housewares and decorative items. However, be mindful that we cannot sell items that are stained, torn, broken or show excessive wear. Please no books at this time.  We also need people to manage the counter on Saturdays.  We cannot do this without you!
Contact: Cynthia Pipkin capsew59@comcast.net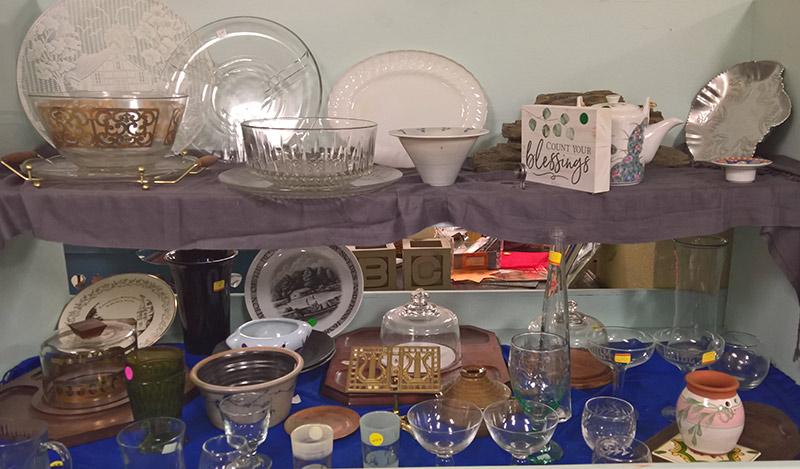 2021 – 2022 Rummage Sale Schedule
WEDNESDAYS                            SATURDAYS
10:00 a.m. – 1:00 p.m.               10:00 a.m. – 1:00 p.m.                                    
September 1 and 8                   September  4
October 6 and 13                         October 9
November 3 and 10                    November 6
December 1 and 8                    December 4
January 5 and 12                        January 8
February 2 and 9                       February 5
March 2 and 9                           March 5
April 6 and 13                             April 9
May 4 and 11                               May 7
June 1 and 8                              June 4
July 6 and 13                             July 9